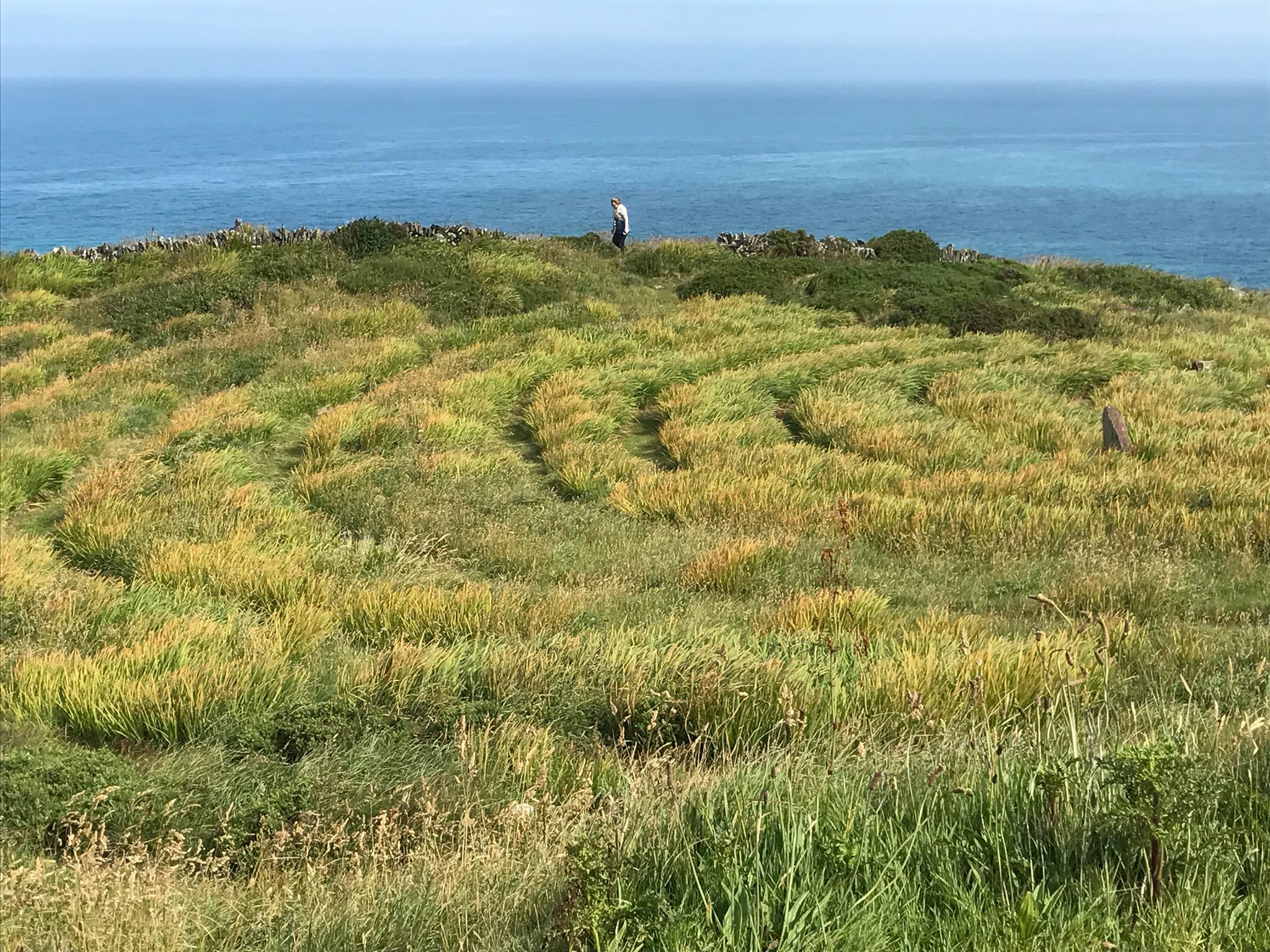 Susan walking the maze
In June of this year, I was pacing in a maze outside Hotel Camelot which is near the ruins of Castle Tintagel on the wild coast of Cornwall. I was visiting the area with a tour group, Gothic Image Tours. My historical fantasy novel, Magician and Fool, was still in the process of being worked out for publishing and the tour group had spent the day at St. Michael and All Angels Church in Bude, Cornwall.  Dawn Robinson, local author and a lively, personable guide, had greeted us at our bus, and guided us to the church's gravesite. This was possibly the location of the burial site of Pamela Colman Smith, the protagonist of my book, who I had been researching and studying for over eight years.
The group wandered from the graveyard to Pamela's last home to the city streets where she might have walked. Back at the Castle Tintagel, the emotional weight of that excursion weighed on me and walking the maze seemed an apt metaphor for how I was feeling, for there was no clear-cut path for publishing my book and I was going in circles. As a cool summer wind picked up in the gathering dusk, I stepped between the carefully placed stones and stalks, and silently asked for guidance. How I might get this book of Magician and Fool, this fictionalized story of Pamela's life, out into the world?
I had arrived in London a few days before the tour to stop by Watkins Books. I dropped off a pitch letter for my book and hoped to launch it there with a talk. Etan Ilfeld, owner of Watkins, was not in but I stayed long enough to soak in the atmosphere of the beautiful place, books old and new lining the shelves. The history of the place was rife with stories of Golden Dawn characters and occult members meetings, and the tomes seemed to seep silent witnessing with their fragrant old-book smell. I knew I was taking a risk by leaving this pitch letter at Watkins. At the time, my book wasn't officially signed with a publisher; it still needed a final edit and who knew how long it would take for my books to be printed and actually out in the world? And how could I put out the word for Magician and Fool? I was totally at a loss.
For months after the trip to Cornwall, I scoured my mind for who might be the modern-day equivalent of the Magician in 'Magician and Fool'. In Pamela's day, and in my book, it was Sir Henry Irving, the actor/manager of his day who hired and tutored Pamela in her youth. Sir Henry, the first actor knighted in England, started out as a humble regional theatre actor who worked his way up from impoverished actor supplying his own costumes for plays to being the employer of some 350 people with the Lyceum Theatre Company. He memorized and performed hundreds of roles, created some of the cutting-edge effects of stage magic and helped changed the assumed definition of actor as 'dead-beat' to esteemed cultural icon.  And his fans loved him almost as much as those working with him did.
Flash forward to October, Friday the 13th. I am in London, standing outside the entryway of Watkins Books. Carrie Paris and her husband, Robert, had come down with me in the Uber car from the Thistle City Barbican Hotel where we were attending a tarot conference. Robert carried the heavy box of books from the car, Carrie indulged my asks for photos outside the Watkins Bookstore window, where the rows of my book were positioned and a poster of the talk for that night hung in the middle. Carrie and Robert helped set up the books on the table in the front, brought me water, watched my purse, soothed my nerves. They truly were angels. As the minutes ticked by, I stood in front of the table filled with Magician and Fool mugs, t-shirts and books that I had brought. To my left, the cash register, with Hugh, Mike and an assortment of staff members processed sales; others set up chairs in an area for a video-taped lecture.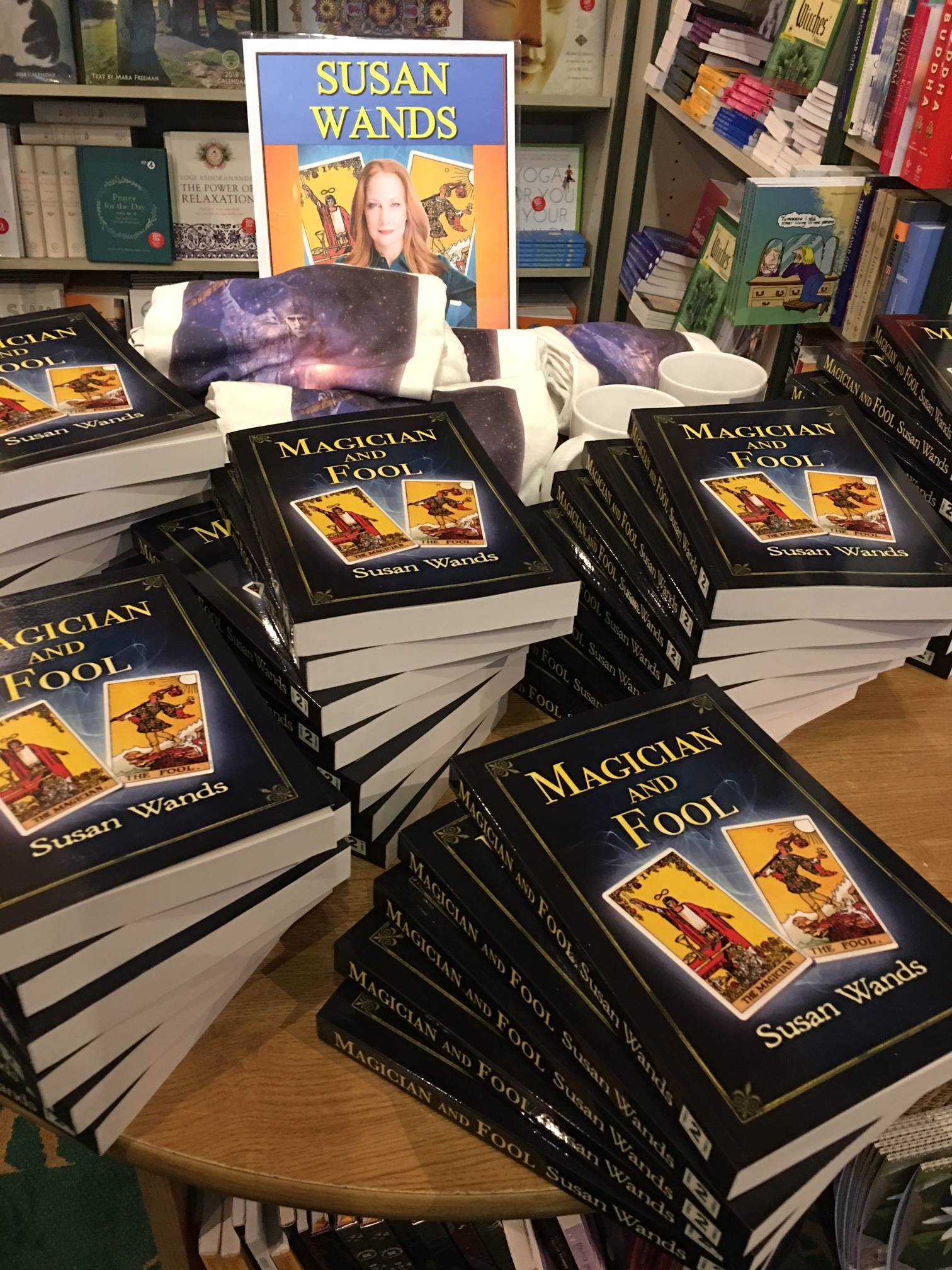 It is now 6 pm and I am waiting for Bryan Cranston to arrive.
Bryan Cranston is the Emmy winning actor who worked his way into the hearts of TV viewers with his funny, goofy dad on 'Malcolm In The Middle' and then blew their minds with Walter White on 'Breaking Bad'. Following that, he became a Tony winner for his portrayal of Lynden B. Johnson in "All The Way" on Broadway. Bryan got his start working in daytime television, making his way to the coveted rank of actor on a long-running TV series with 'Malcom In The Middle'. He also worked on stage, making lifelong friends with those he worked with, on sets and off. My husband, Robert Petkoff, was cast in ALL THE WAY as Hubert Humphrey, and noticed how many of the talented actors in the cast had started out with Bryan. He had made sure his friends had the opportunity to be considered for the work he was in. And what struck me, in additional to his finely executed, full committed performance, was how Bryan conducted himself during the play's run. Time wise, ALL THE WAY was a lengthy play, and Bryan was on stage in almost every scene. The show was a real tour de force, he was usually spent by the end. Rather than being shuttled out to a waiting car and disappearing, Bryan made sure he greeted everyone who came back to his dressing room, or was waiting backstage or was waiting for an hour or more outside the Neil Simon Theatre to get his autograph or talk to him.
He made time, every single performance. Relatives, friends, actors still talk of meeting him after the show and how he greeted them and acted as though the conversation they had about the size of his fake ears he wore as Lynden Johnson was spoken for the first time, every time.
And then there were the crowds of rabid 'Breaking Bad' fans waiting for him in the big, crushing crowd outside the theatre. People had watched season after season of Walter White do terrible things on 'Breaking Bad'. ALL THE WAY featured a Texan president caught in the social struggles of the Civil Rights Movement and the Vietnam War. The audience had to let go totally of Walter White and allow themselves to be captivated by this entirely different entity.
And like Henry Irving, though perhaps not on the scale of the Lyceum Theatre Company, Bryan nurtured his group of actors, writers and producers around him. I met Bryan in passing during the run of his show on Broadway and during the opening and Oscar night party. Years ago, I had started out as an actress on one of the same TV daytime shows he had been in, and although our paths had never crossed on that, we commiserated briefly about our time on that show. I also had several conversations with his lovely wife, Robyn, who is also an actress. But one night, Doris Goodwin, a brilliant author who specializes in biographies on American presidents, was in attendance and came backstage after the show. I happened to be standing nearby. I don't believe I whimpered, but I probably gave every indication of how very much I wanted to be introduced to one of my literary stars.  I thought I saw him give me a slight nod of his head, so I held my ground and stood near. And sure enough, during the course of their conversation, he turned to me and introduced me to Doris. We had a fleeting conversation, but I was thrilled to meet Doris and thankful for Bryan's consideration to include me. And what was magical about that gesture was that he allowed me to consider myself as someone worthy of being considered.
It looked like my books were going to be published in October by i2i Publishing and I got the go-ahead from Watkins books for an author's talk. Then, I found out through our mutual friends that Bryan was going to be in London at the same time. He would be rehearsing for yet another demanding role, the lead in the stage version of NETWORK at the National Theatre. I wrote to our friends who worked with him, asking if he would be available for an appearance at my book launch and he wrote back, saying very kindly that he couldn't promise anything, as it was just the beginning stages of rehearsal for a show that opened in November, but that he would keep in touch. Two days before my book launch, my husband got an e-mail from him, saying that he might be able to make an appearance. A brief stop-by only, as he was still in the thick of things. I wrote the folks at Watkins, giving them a head's up that Mr. Cranston might be stopping by during the course of my talk for a very brief hello.
So, here it was – the night of my book launch. There was a very nice crowd of about 30 people, sitting very close to each other in folding chairs. Friends, acquaintances and folks I didn't know, all sitting patiently, quietly. It was now almost 6:10. "Well, things happen, late rehearsals, traffic, who knows", I said to myself. I told Etan that we could get started and that if Bryan came, I would work him into whatever I was saying at that point. Blood was pounding in my ears; my face was on fire; I tried to act nonchalant and walked in front of the gathered guests. Etan started the camera and introduced me.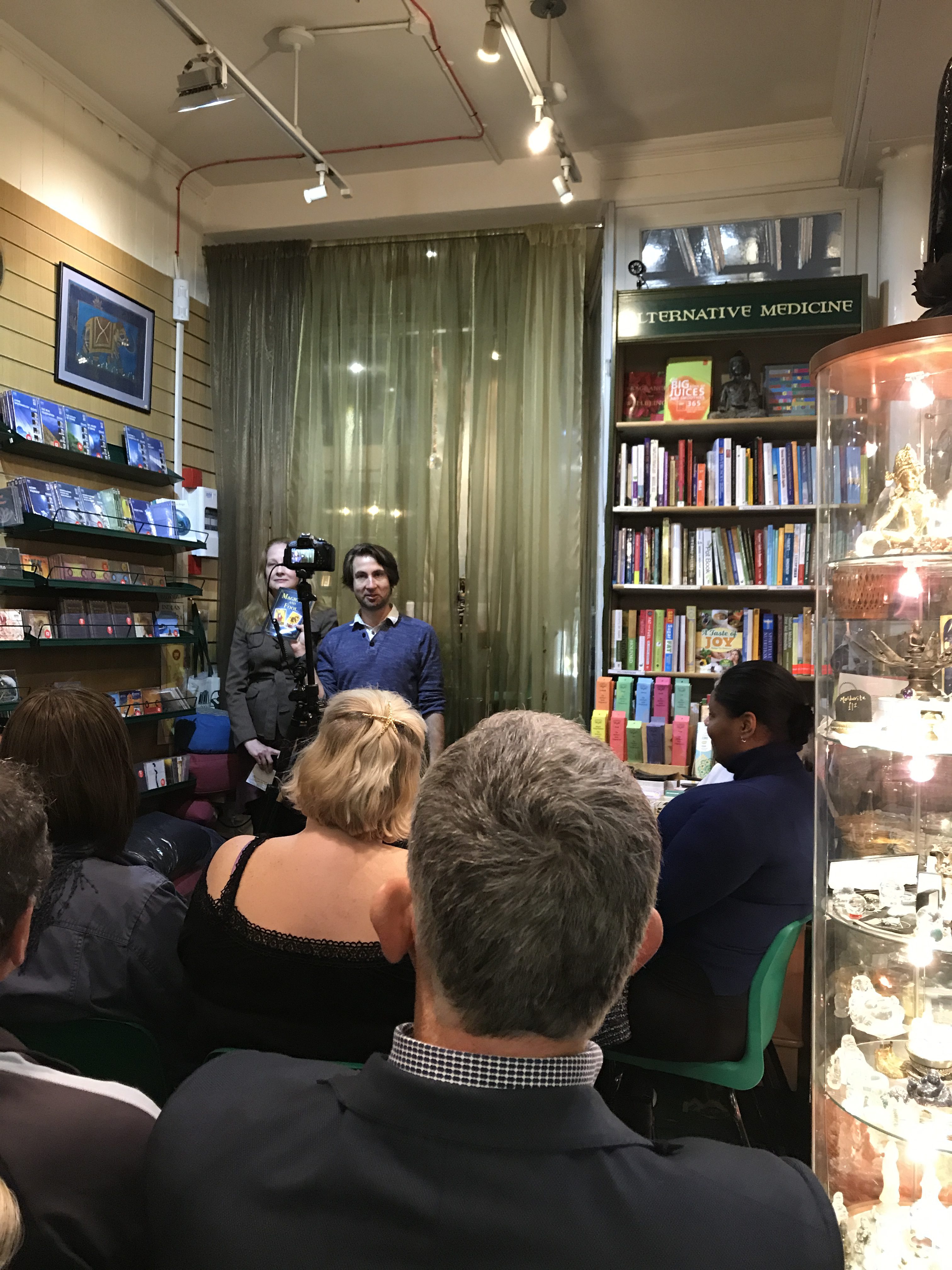 I love talking about Pamela Colman Smith. I love talking about her life, I love talking about why I wrote this book, and the soon-to-be series of books about her. Once I started my talk, I was lost in the text of speech I had prepared. And just at the point in the speech where I began to talk about the magician in Pamela's life, Sir Henry Irving, someone entered and was starting to pass Carrie and Robert's seats. He started to go up the stairs to sit in the back. I don't know if you'll be able to hear the gasps on the video when they play this event on the Watkins Bookstore youtube station, but I certainly saw necks snap sideways and major stand-at-attention body language spread through the audience. I quickly introduced Bryan Cranston and called him over and he stood with me in front of the audience.
He is used to playing to sold-out audiences at the Neil Simon that seat over 1600 and here we were entertaining about 30 people. We chatted for a few moments about Bryan as Actor/Magician and about the progress his cast was making with NETWORK at the National Theatre. He was funny and self-depreciating, passionate about his role and the job at the National. After a few moments of chat, I thanked Bryan for being there, as I knew he had places to go and people to see, and he left, every eye in the house momentarily following him. Jumping right back into the story of Pamela's initials, I finished my talk and took questions from the audience, the people seemed engaged and interested. Afterwards, I signed books at the table and met folks. Later on, a very succinct tweet was posted by Chesellen: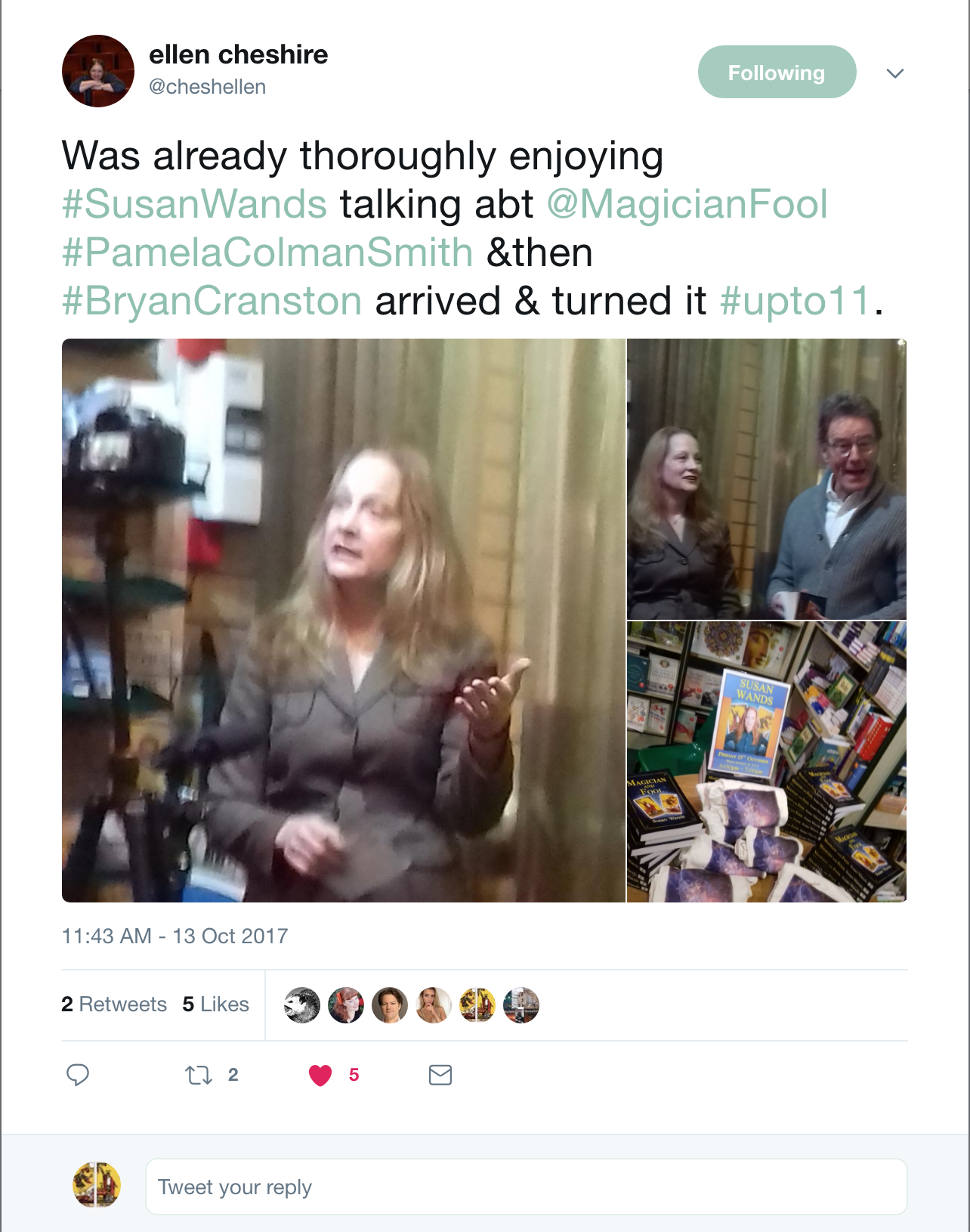 From dejectedly pacing in a maze, asking the universe to please help me find a way to launch my book, to seeing Bryan Cranston enter Watkins Books to help me with the evening, it has been quite the journey. You could say it was just organization or luck or even, fate. I believe it's a little of all three. And, of course… magic.